Pilates Online vs. Pilates in Person
Developed in the 20th century by Joseph Pilates, Pilates is a great way to connect to your body, improve your physical form and flexibility, and even decrease stress and anxiety. Pilates is a low-impact form of exercise that focuses on core strength and balance; regular Pilates can also improve your posture and muscle strength. With celebrity fans including Jennifer Aniston and Christiano Ronaldo, Pilates is a great way to transform your body from the inside out. Whilst Pilates can be done both online and in person – which is better for you?
If you're looking into starting a Pilates class, you might be wondering whether you'd prefer to carry out your sessions at an in-person class or at home. While at-home classes might be more convenient for some, there is inherent value in physical classes; a lot of people find that they remain more motivated when in a class than when performing exercises alone.
In this guide, we're going to go over the pros and cons of Pilates online vs. Pilates in person, so you can make an informed decision that's right for you.
So, let's take a look!
What did Joseph Pilates think?
Although Joseph Pilates never knew the world of digital classes and online streaming, he believed that Pilates should be performed at least 3-4 times a week to obtain optimal results. This makes the case for at-home online classes: it's much easier to commit to 4 days a week of exercise when the commute is just to your living room!
That being said, some do believe in the value of community exercise. Let's take a look at the pros and cons of in-person classes.
Pros of Pilates Classes In-Person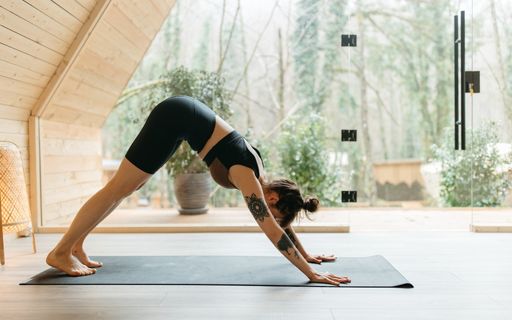 Going to an exercise class is a great way to foster community and friendship, and this applies to Pilates classes as well. If you've always enjoyed having a gym buddy or friend to talk to, or if you remain the most focused and motivated when you're surrounded by others, an in-person class might be the best option for you. If you're looking to develop friends with common interests, an in-person class is also a good idea. 
When you attend an in-person Pilates class, you have the privilege of being able to solicit help from your Pilates tutor directly; the instructor will be able to help you achieve more complicated positions, or point out if you're performing a move incorrectly. This can be invaluable when you're just starting out and need extra guidance: you're more likely to see better results if you have an on-hand instructor ready and willing to help you improve your form. With this you will also get tactile cues, so you can feel movements better.
Some days, we just don't have the motivation to exercise. Whether you're stressed with work or simply pressed for time, it can be difficult to find the time and discipline to squeeze in an exercise session. If you're attending Pilates classes that you've already paid for, you're more likely to turn up for your workout, getting those all-important health and well-being benefits. You're also less likely to stop and check your phone, be interrupted by children, or watch TV during an in-person class: an in-person class demands 100% of your focus, meaning you'll enjoy better results and find your concentration is more focused. 
Your Pilates session may be part of your daily routine if your studio is located close to home or close to your workplace. You may find that going to a local Pilates studio on your lunch break or on the way home from work is much more convenient for you!
Pros of Pilates Classes Online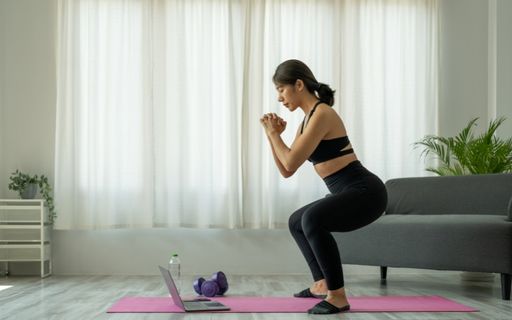 So, what are the benefits of carrying out your Pilates classes at home? Here are just a few benefits of doing your workout in your living room:
Full control over your schedule
One of the great things about taking online Pilates classes at home is that you can control when and how you carry out your sessions. Unlike having to adhere to the fixed time and place of an in-person class, you get to make your own schedule around your day and responsibilities. When you have total control over your schedule, you're much less likely to miss a class due to unforeseen circumstances. 
Ideal for new mums or stay-at-home-mums
If you're a mum to a new baby, you might not feel up to rejoining or joining a Pilates class as soon as your doctor signs you off for exercise. Not only might you not want to leave your new baby at home (as this often means paying for a babysitter), but you might have to take some time to adjust to exercise again; pregnancy and giving birth asks a lot from your body, and you are likely to need to go slow at first and take your time. This is where online classes are fantastic: you can go at your own pace, pause the class as many times as you want, and enjoy your Pilates session with your new baby at your side. 
Great for beginners if you are lacking confidence 
Being a beginner in any type of exercise class can be embarrassing: you'll often need to twist and turn your body into new positions and try your best to hold your balance; when you're new to Pilates, falling and stumbling, or being unsure what you are doing is part of the process! Taking classes at home eliminates any potential embarrassment, and allows you to get to grips with the exercises in the privacy of your own home. 
While you might not have the on-hand help of your instructor, most online Pilates classes are much cheaper than in-person sessions. Subscription services are always more affordable than class memberships. If you want a budget-friendly exercise class, online Pilates is a great option. 
Potential Pitfalls of Online Pilates
The home offers plenty of distractions and reasons to skip sessions. There is washing to be done, work to complete, or food to cook! Unless you have a dedicated time and space for your Pilates session and have the self-discipline to complete the session – you may struggle! 
Pilates online vs. Pilates in person: which is best for me?
It's always best to get the opinion of the experts! Complete Pilates, a Pilates company based in the UK offers both online Pilates sessions and Pilates in Angel, Chelsea, and the City of London. 
Founder Helen O'Leary says – "it is all about finding something which you can be consistent at and enjoy. If you do this you are more likely to continue and get the most out of each session. If you have an injury, are recovering from an illness, or are simply not sure where to start or if you are doing it right, I would always recommend a couple of in-person sessions to get the hang of it. After this, a mix of in-person and online sessions is ideal to keep things fresh and affordable!"  
So, still don't know whether to opt for an in-person class or an online class. Take a look at our quick summary below for help:
You should opt for an online class if:
You've always struggled to find time to go to the gym

Your schedule is often hectic and unpredictable

You have

young children at home

You're a beginner at Pilates

You want shorter classes
You should opt for an in-person class if: 
You always make the time to get to the gym

You enjoy community and group exercise

You're more motivated when surrounded by others

You want to make friends with like-minded individuals

You have an injury, are recovering from an illness, or want more support,

a Chiropractor can Help!