Rehabilitation
Rehabilitation is defined as the combined and coordinated use of medial, social, educational and vocational measures for training and retraining an individual to the highest level of functional activities.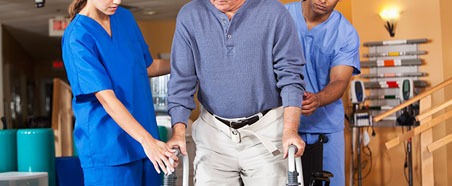 Objectives of Rehabilitation
Provision of appropriate medical facilities and treatment as early as possible.
Provision of suitable education for the children and disable.
Assistance in achieving and maintaining a state of good mental health, including positive psychological attitude towards the handicap in the society.
Education of general public regarding the needs and worth of handicap person.
Giving vocational assistance in relation with the extent of disability.
Some other objectives are –
To eliminate disability
To reduce or remove disability to the greatest extent
To retrain the person with residual physical abilities and built his capabilities.
Principal of Rehabilitation:
It should be started at the earliest time in order to ensure best result
To be administered in conjunction with specific medical and surgical treatment, specific for a disability.
To give attention and listen to patient carefully.
Building up the patient to the highest possible level of functional activity.
Knowing the socio-economic standard of the disabled and
Training and retraining in a particular task (job oriented)
Levels of Prevention
Primary level of prevention:
These are the actions taken to reduce the occurrence of impairment.
Vaccination and immunization
Sanitation and safe water
Health education
Proper nutrition
Awareness
Secondary level of prevention:
It is the control of or limiting the consequences of impairment once it has occurred.
Early treatment
Effective drug therapy
Correction of deformity
Tertiary level of prevention:
Here the treatment aims at preventing the occurrence from becoming handicap.
Therapeutic measures provided by physiotherapists, occupational therapists and speech therapists.
Training in self care activities i.e. ADL's.
Providing technical aids i.e. orthoses and prosthesis.
Social and vocational confidence
Providing education and suitable job for the handicap
Education for improving the attitude of family towards the patient
Rehabilitation Team
Rehabilitation team comprises of –
Physiatrist – a trained physician in the field of physical medicine and rehabilitation (PMR).
Physiotherapist
Occupational therapist
Speech therapist
Clinical Psychologist
Rehab nurse
Prosthetist and orthotist
Social worker
Vocational counsellor and
Recreational therapist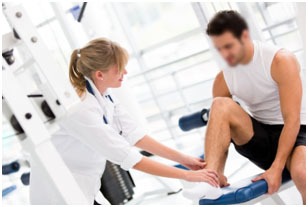 Physiotherapy
The role of physiotherapist as a member of rehabilitation team is –
Evaluation and assessment of range of motion and strength,
Restoration of movement and strength,
Use to superficial and deep physical agents (modalities),
Work on balance, coordination, transfer techniques, gait and ambulation,
Training and research and
Creation of a barrier free environment for the patient.
REHABILITATION CENTRES/ INSTITUTES IN INDIA
National institute for visually handicap, NIVH (Dehradun)
National institute for hearing handicap, NIHH (Bombay)
National institute for mentally handicap, NIMH (Sikandrabad)
Institute for physically handicapped, IPH (New Delhi)
National institute for mental health and neurosciences, NIMHNS (Bangalore)
National institute for rehabilitation training and research, NIRTAR (Cuttack)
National institute of orthopedically handicapped, NIOH (Calcutta)