Postural Care with Baby
With newly born baby mothers need to take care of her posture so that she doesn't strain herself while taking care of the baby. Moreover, post-pregnancy the overall strengthening program (post-natal physiotherapy) should be undergone by every mother to have sufficient strength to deal with the growing child and household chores/ official work; rather, gradual building up of strength should have started during the ante-natal phase.
Proper Feeding Technique:
Either feed the baby in side-lying position or use pillows to support the baby and yourself so that you don't need to lean forward.
Proper Lifting Technique:
Don't bend over from the back to lift the baby rather bent your knees and cradle the baby close to your body while lifting.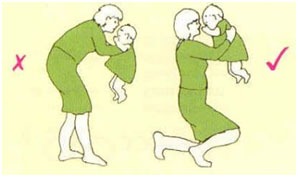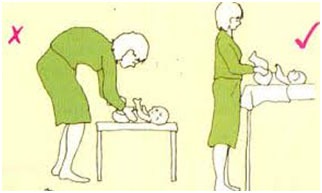 Proper Handling Technique:
Use a higher table so that you don't need to bend to dress up the baby or for any other purpose.
For more information on the correct Posture while handling Kids, Contact us now.