Rheumatoid Arthritis
RA is a chronic inflammatory disease. The cells lining the synovial membrane are activated by some process not yet understood, triggers the immunological response. These cells proliferate, resulting in thickening and inflammation of the synovial membrane. These cells are invasive, fibroblast-like cell mass (called PANNUS), which is capable of eroding cartilage and bone. The synovial fluid accumulates, and the joint swells, distending the capsule, pulling on its periosteal attachment and causing pain and potential rupture. The ligaments and muscles around the joint are also subjected to weakness and potential rupture.
Factors which may (suspected) evoke the immunological reactions are Climate, Race, Diet, Psychosomatic disorders, trauma, Endocrinal dysfunction, Hereditary, disturbance in autoimmune system and infections.
Diagnosis (Criteria given by American Rheumatoid Association)
Detection of abnormal protein, known as rheumatoid serum factor (Rh. Factor)
(There are also sero-negative variants of arthritis presenting similar feature)
Other abnormal findings,
Raised ESR, serum fibrinogen and immunoglobulins
Reduced albumin
Synovial Fluid examination reveals yellowish/greenish in colour, cloudy in clarity, low viscosity and neutrophils (75%) predominantly.
Clinical Findings
Onset between 35-55 years of age
Male : female- 3:1
Severe pain
Swelling
Raised temperature
Morning stiffness
Phlebitis (extruded synovial fluid may irritate the soft tissue around)
Contractures, fibrous/ bony ankylosis
Secondary osteoarthritic changes
Deformities – wrist, small joints of hand, knee, elbow, shoulder, hip most commonly affected.
Common deformities
Hand – ulnar drift of the hand, Boutonniere deformity, Swan neck deformity
Foot – Hallux Valgus, Hammer Toe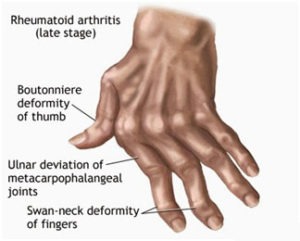 Rheumatoid Arthritis also includes nonarticular affection (systemic illness, blood disorders, vascular, cardiac, respiratory, reticuloendothelial, skin)
CLASSIFICATION
A] ON THE BASIS OF PROGRESSION OF RA:-
STAGE I (EARLY)
No destructive changes on X-ray,
X-ray evidence of osteoporosis may be present.
STAGE II (MODERATE)
X-ray evidence of osteoporosis, with/without slight subchondral bone destruction; slight cartilage damage may be present,
No joint deformity, although the limitation of joint range of motion (ROM),
Adjacent muscle atrophy,
Extra-articular soft tissue lesions, such as nodules and tenosynovitis may be present.
STAGE III (SEVERE)
X-ray evidence of cartilage and bone destruction in addition to osteoporosis,
Joint deformity such as subluxation, ulnar deviation or hyper-extension without fibrous or bony ankylosis,
Extensive muscle atrophy,
Extra-articular soft tissue lesions such as nodules and tenosynovitis may be present.
STAGE IV (TERMINAL)
Fibrous or bony ankylosis,
criteria of stage III.
B] ON THE BASIS OF FUNCTIONAL STATUS OF RHEUMATOID ARTHRITIS PATIENTS:-
CLASS I –
Completely able to perform usual activities of daily living (self-care, vocational and avocational)
CLASS II –
Able to perform usual self-care activities and vocational activities but limited in avocational activities
CLASS III –
Able to perform usual self-care activities, but, limited in vocational and avocational activities
CLASS IV –
Limited ability to perform usual self-care, vocational and avocational activities.
(Usual self-care activities include dressing, bathing, grooming, and toileting. Avocational includes recreational and leisure activities. Vocational includes work, school, homemaking, etc age and sex-specific)
CLINICAL COURSE
Acute phase/ Active phase
Chronic phase
– There may be exacerbations and remissions during the course of the disease.
PRINCIPLES OF PHYSIOTHERAPY MANAGEMENT
Relief of pain and inflammation
Restoration and maintenance of a joint range of motion
Improvement of muscle strength and endurance
Prevention of deformity
Correction of deformity
Optimization of functional level
Management of re-occurrence.
Joint Protection/ Patient Education to Prevent Deformity (in Acute Stage)
Monitor the activities and stop when discomfort or fatigue begins to develop.
Use frequent but short episodes of exercise
Decrease the level of activity or omit provoking activities if joint pain develops and persists for more than 1 hour.
Balance work and rest to avoid muscular and total body fatigue.
Increase rest during a flare of the disease.
Avoid deforming positions

properly supported positioning of the involved joints and correct bed postures are important
The use of a firm mattress minimizes the effect of mal-positioning thereby preserves the integrity of the joints.

Avoid prolong static positioning; change positions during the day every 20-30 mins.
Use appropriate adaptive devices.